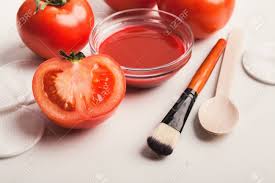 Skincare DIY for 2020 – Tomato benefits on the skin
Recently I have been wondering why tomato is such a super tasty recipe in making delicious meals, this prompted me to dig deeper into knowing the benefits of this fruit/vegetable especially on the skin. These easy DIYs will leave your sking feeling amazing in the new year.
It is not surprising to know that tomato is not only healthy for our bodies (good health), but also for our skin and hair because of its rich red colour and the softness in its pulp. Tomato is a very good source of vitamin C and Vitamin A, it helps to get rid of acne and promotes great healthy skin.
The acid in tomato helps to balance the skin tone, reduces excess oil, and fights against dull skin and acne breakouts.

Here are different ways you can incorporate tomatoes into your daily beauty routine for younger-looking and healthier skin:
CURE ACNE WITH TOMATO PULP
Mash a fresh tomato and apply the pulp liberally to your face.
Leave on skin for about 30 minutes then rinse and moisturize.
Do this every day for several days and your acne will disappear.
For a quick pimple vanish, dab a bit of tomato paste on the spot.
This will draw out excess oil and lessen redness.
BALANCE COMINATION SKIN WITH TOMATO AND AVOCADO MASK       
Tomato-and-avocado mask is great for combination skin (oily, normal, and dry) it combines the astringent,
blackhead and oil-reducing benefits of tomatoes with the antiseptic and moisturizing properties of avocados.
This super-rich mask also contains vitamin A, C and E, all of which are essential for healthy skin.
To make this soothing mask, mash tomato and avocado together in a bowl.Mix well and smooth on your face.
Rinse after 20 to 30 minutes with lukewarm water.

CLOSE UP PORES WITH TOMATOES AND LEMON
Make a mix of fresh tomato pulp with few drops of lemon. Apply this mix to your face and emphasize mainly on your nose, chin and forehead as these are the areas where pores are mainly at their largest. Let it dry for 10 minutes and then wash your face with water to shrink pores, and moisturize.

GLOWING SKIN WITH TOMATO PULP AND HONEY
Mix honey and tomato juice and apply to your face and neck. Let sit for 15 minutes, then rinse thoroughly. Your skin will be smooth and glowing!

USEFUL FOR WEIGHT LOSS
If you want to lose weight, the important tip is to eat fresh raw tomato early morning everyday or
ten to twenty minutes before you eat, as this reduces your appetite. It really works!
And it stops the fermentation process through which sugar and alcohol is produced leading to more weight. Tomato helps to stop the process, and the result you lose weight!
GREAT FOR BEAUTIFUL SHINY HAIR AND TO COMBAT DANDRUFF
Applying tomato juice or tomato paste to your hair enhances the natural PH of the hair and helps
in getting back its natural colour. Tomato acts as a conditioner and brings shine to luster less hair.
Squeeze 1 Orange and blend with 2 whole tomatoes, use it to steam your hair for 20 minutes, then rinse off.
To get rid of dandruff apply tomato pulp to your scalp and leave it for half an hour and then shampoo your hair.
This is a very effective way and time tested remedy to get rid of dandruff by using natural treatment.

REDUCE SUNBURN
Apply tomato paste on the sunburn affected area. Also the skin can be easily prevented from sunburn if you include tomato paste to your diet and eat it regularly.
It is believed that the nutrient lycopene in tomato helps to a great deal in protecting the skin against the harmful ultra
violet rays. Mix a tomato with some natural yoghurt for a great soothing and cooling mask. Use this mix not only on your face but all over your body to prevent yourself from sunburn.
So now that you know the infallible usage for tomatoes, I'm sure you'll do a quick fix on your skin in your kitchen while preparing that super delicious meal with tomatoes.